Equine Rescue in Kingman, AZ
Loscutoff Equine Rescue is a family-owned nonprofit equine rescue, operating in Kingman, AZ. We opened our equine sanctuary in 2020; however, we have years of experience as equine handlers, caregivers and general equestrians. We invite you to come and experience our nonprofit equine rescue and horse rehabilitation center for yourself, and to see these truly amazing animals in an environment where they're nurtured, loved and cared for with compassion.
Our Family Story
Loscutoff is our family name (Russian), and has been through generations. My name is Christine and my daughter's name is Adrianna, and together, we operate Loscutoff Equine Rescue. The rescue was named for my mother, Donna, whose Mother's maiden name was Loscutoff. Donna passed away November 2, 2020, from COVID-19. She was in a care facility with Alzheimer's. Every day we honor her memory in the kind and loving work we do for our equine adoptions.
The Beginnings of Our Equine Sanctuary
My daughter and I have both loved horses from a young age. As adults, together, we decided to put our love of horses front and center and began our journey to save as many as we could, one by one. We started by researching how to save horses from slaughter; it seemed like an emergency need. That's how we discovered Bowie Horse Auction, in Texas. The horses there needed urgent saving; the alternative was being shipped to slaughter. As we investigated further, we had a cathartic moment.
As we loaded a web page to get more information about horses up for auction, we saw his face. He had big, loving eyes, a fluffy mane, a beautiful white blaze and a look you couldn't ignore. He was a gorgeous giant Belgian draft horse! He caught our hearts like a butterfly catches sight of a beautiful flower. We knew we had to have him, and so we did everything we could to get him. We named him Sir Galahad—after my mother's favorite Joan Baez song—and he came with his pulling partner, who we named Camelot.
As soon as we purchased the two drafts, we figured out that we were missing the third person equine adoption. Our search continued. We had the choice between two sorrels, but for some reason a little Arab/quarter horse stole our hearts and we picked him: our little Rosso. The two drafts, Sir Galahad and Camelot, and little Rosso became the founding fathers of our equine rehabilitation center.
Understanding the Value of a Horse
Through the years, the value of a horse's life has made some drastic changes. Horses, in war days, used to be throwaway creatures. Battalions would ride in on horses and when the horses were tired or injured or became ill, they would shoot them. It was a sad, undignified life for animals that are complex, emotional and intelligent.
In modern day, horses hold a much greater value. Horses are used for not only work, but entertainment and companionship, as well. They're bred for showmanship and sold for thousands of dollars! That said, many people still don't understand the emotional and intellectual complexities of horses, and they're often mistreated or misunderstood. There's a lack of knowledge by some in understanding how to take care of a horse long-term. As a result, there have become many auction yards, slaughterhouses, and private companies that profit off of this lack of knowledge. To add to that, a lot of wild horses have lost their privilege to roam free. There are too many horses and not enough people with whom these horses can live.
At Loscutoff Equine Rescue, our dream is to teach people about the responsibility of owning a horse and all the work, love and personal growth that comes with rescuing one. We take in less fortunate horses and make them desirable to the public, as well as give an education for the new owner so they have the information needed to keep their horse happy and healthy for a lifetime.
Come Experience Our Horse Rehabilitation
While our primary mission as an equine rehabilitation center is to ensure a safe and supportive environment for the horses and donkeys we care for, we also hope to educate our visitors about these amazing animals. We strive to help humanity understand that horses have a soul—they feel love, fear, joy, happiness, shame, rage, compassion, respect and so much more. They're also able to pick up on more than we do, on a 'spiritual' level, through their instinct to survive.
Horses are herd animals. In a herd, horses respond mainly to body language and vocal ques. In relation to this, there's an even more magical and captivating fact: horses can literally feel your heartbeat from four feet away. It's a testament to how amazing these animals are, and why so many people instantly feel a connection—even to a horse they just met.
If you're in Kingman, Mohave County, Oatman, or Bullhead City, AZ or visiting the area, we invite you to come and experience this one-of-a-kind interaction at Loscutoff Equine Rescue. We promise a connection unlike any other.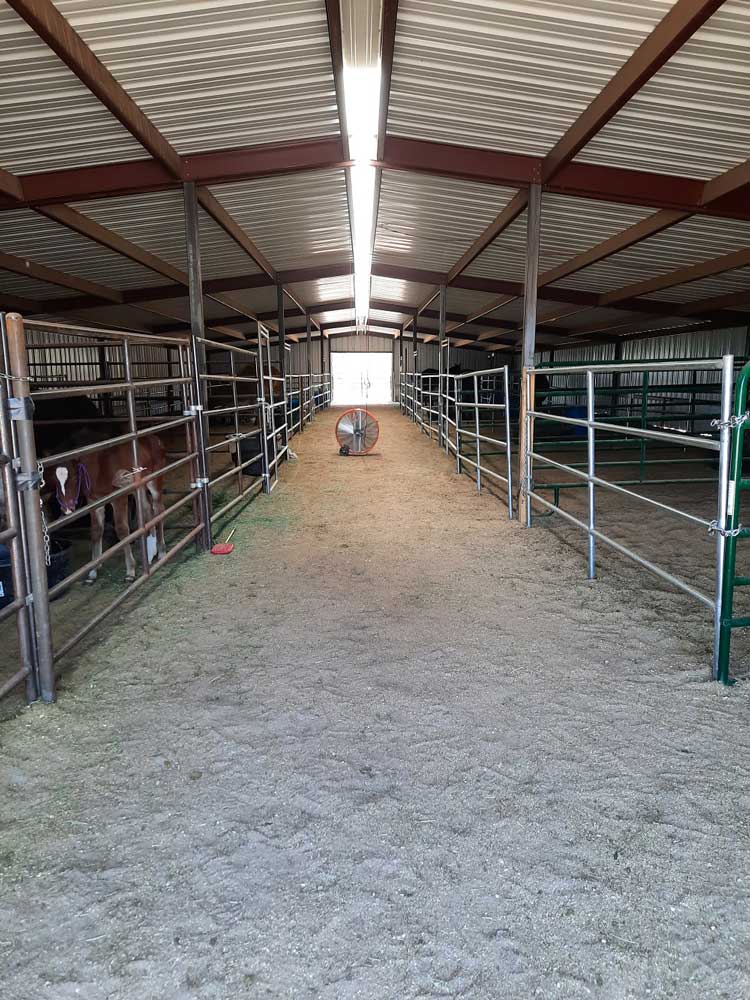 Come Experience a Connection
After working with horses for years and being tuned-in to their emotions and intelligence, we're extremely proud to run a nonprofit equine rescue that allows others to come and experience the majesty of these animals for themselves. We invite visitors to come and watch them gallop and play, and to pet and nuzzle them, and experience the connection that comes from spending even a small amount of time with a happy, healthy horse.
Visit our equine sanctuary and horse rehabilitation center today and come get to know our herd! Volunteers are always appreciated, and we couldn't do what we do without the generous support of donors and financial supporters. We appreciate every person's contribution to our mission of equine adoption, and seek to do right by you and the horses we support, always.